ARO Piston Pumps And Packages
ARO Piston Pumps are an industry standard when if comes to accuracy and control. The simple and efficient design makes it an easy choice when selecting the right piston pump or pump package for you specific pumping application.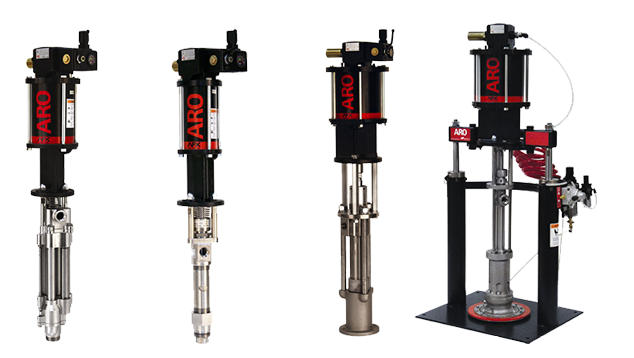 Here are just some of the ARO Piston Pump products offered from ARO
ARO Force Pumps and Packages
The finest air motors with a handful of moving parts.
Hydraulic Driven Piston Pumps
The right solution for your hydraulic pumping needs.
ARO Force Packages
Industrial diaphragm pumps in an array of sizes and materials.
Two Ball Pumps
ARO's 2 ball pumps are some of the most flexible and versatile pumps in the series,
Four Ball Pumps
These 4 ball pumps offer a great solution for transferring high volume low to medium viscosity fluids.
Chop Check Pumps
ARO Chop Check Pumps are the big boys of the series that handle medium to high viscosity fluids.
Piston Pump Parts
All of you ARO Piston parts for your maintenance needs
Piston Pump Accessories
We have the right accessory for your ARO Piston Pump applications.